Whether you are looking for Morgan or Peace dollars, gold coins, silver or modern commemoratives, or just common U.S. coins, we offer quality coins at very competitive prices. We have a large selection of Lincoln cents, well over 700 different pennies, this does not include duplicates or rolls!

We also carry a good selection of rolls, mostly uncirculated. Everything from penny rolls through the presidential dollar rolls.

Specials - LOW LOW prices
While you are here, don't for get to check out our coin supplies, we have a great selection including 2x2s, vinyl pages, presidential dollar and state quarter supplies. Keep your coins protected in a Danso album, or in currency holders. Are you running out of room in your storage boxes, we have them too. Feel free to browse around and if you do not find what you are looking for just send us an e-mail or give us a call, we are willing to help.

ProCoins now accepts PayPal!
You can now make secure payments online using PayPal with your Visa, MasterCard, Discover or American Express credit card even if you do not have a PayPal account. You do not have to sign up for an account.

You can use any major Credit Card as well as E-Checks through PayPal. Because of the automation, it enables your order get processed faster than normal credit card orders. Postage, Packing List and FREE Automatic Package Tracking makes it easier for us to process your order and track your package in shipment.

Also each order processed through PayPal gets an Email at the time of packaging to let you know your package will be shipped the following day. We think PayPal is extremely safe for our customers.

Please enjoy the information on "Gold and Silver Fundamentals" by clicking on the link below. If you have any questions please email me.

http://www.procoins.com/PCV2.pdf
TODAY'S GOLD PRICE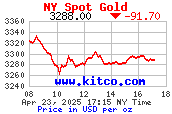 TODAY'S SILVER PRICE